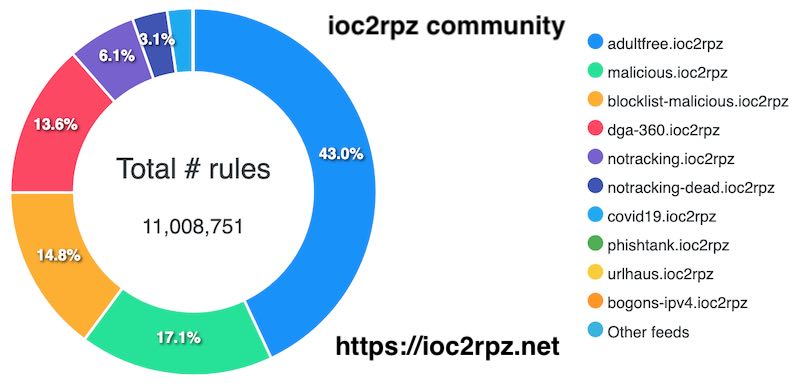 Two years ago @ BlackHat 2019 and Defcon 27 I introduced the ioc2rpz community. The community is powered by ioc2rpz (http://ioc2rpz.com) and provides DNS Firewall feeds free of charge. The feeds are based on OSINT and protect against malware, block ads & trackers and filtrate adult sites.
In 2013, when I joined Infoblox, I learned about DNS Firewall and I was able to evaluate only Infoblox's feeds. I tried to find any other free feeds but I was out of luck. There were only a few vendors who provided DNS Firewall feeds only for a fee.
Late in 2017 I started working on ioc2rpz technology and to promote it as well as educate the community on DNS Firewall in 2019 I created the ioc2rpz community. Back then the community offered 3 feeds to block malware, ads & trackers with about 300k rules. During the next 2 years I added new feeds, custom feeds and RpiDNS - a provisioning script and management user interface intended to run on Raspberry PI.
Early this year the project and the community portal got a first sponsor which helps me to cover some costs to run the service.
Right now ioc2rpz:
- maintains 13 feeds with about 11 million rules, which you still can use on a beefy Raspberry PI 4/8Gb at your home (can your NGFW do the same?). Top 5 RPZ community feeds includes: dga-360.ioc2rpz, doh.ioc2rpz, phishtank.ioc2rpz, malicious.ioc2rpz, notracking.ioc2rpz;
- provides the service to more than 50 members from 5 continents, 25 countries and 70 locations.
This proves that ioc2rpz can serve in an organization of any size. If you use TIP, subscribed for TI or generate your own TI, ioc2rpz can help you to transform your DNS server (if it supports RPZ) to a DNS Security layer.
I'm looking forward to introduce new features soon, to serve more community members and make this world a bit safer and secure.
You are welcome to join the community (https://ioc2rpz.net).